online course
Tantric love making
Tantric love making or Tantric sex?
Tantric love making or tantric sex how do you do it? In the online course Tantric Love Making you will learn step by step how to make tantric love. In Sanskrit we speak about Maithuna, an experience in the NOW, full of surrender, feeling, trust that can turn into an ecstatic flow.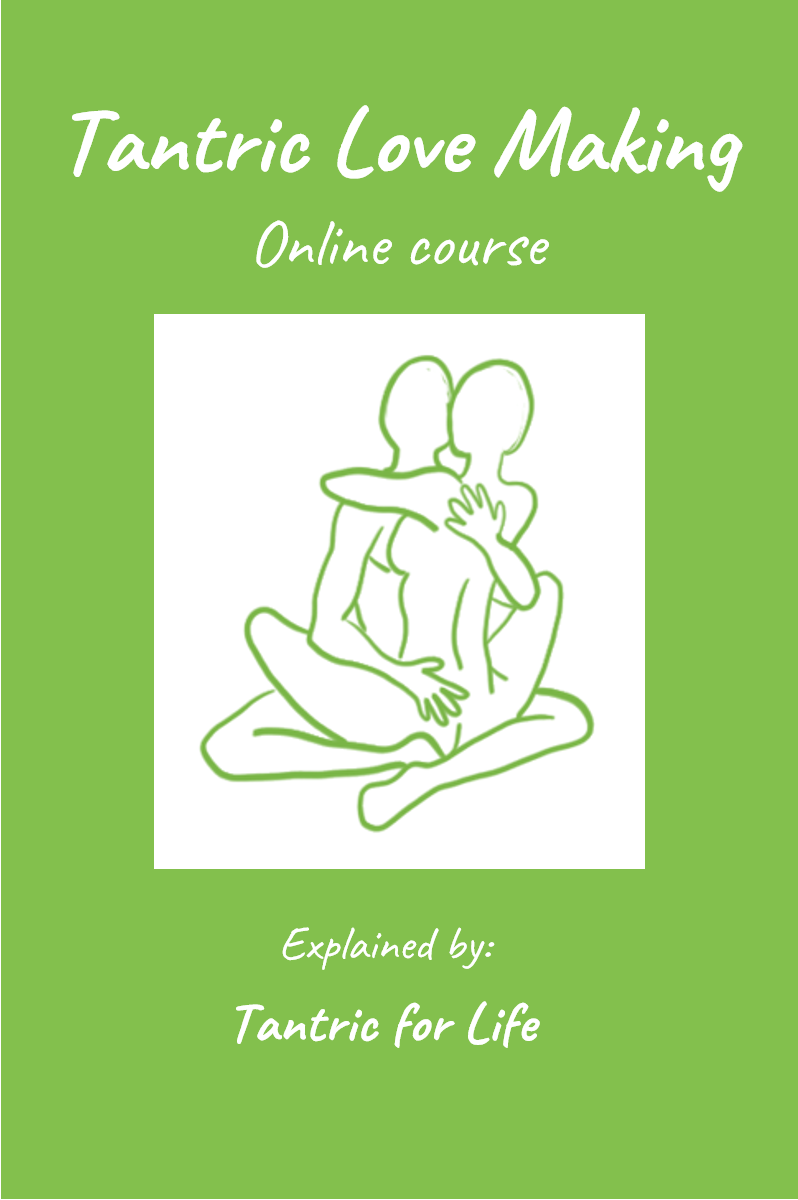 Heart salutation by Psalm Isadora (1974 - 2017)
If you cannot yet massage tantrically, tantric lovemaking begins with the heart salutation. Psalm Isadora explains it her way.
How to make tantric love?
Your life energy (Kundalini) begins to flow between the chakras and forms one big energetic whole. Together you express your love for each other. Step by step you will get an explanation, with the help of drawn postures (asanas), how tantric sex also makes your love and sexuality experience more intense.
Tantric love making versus sex
Tantrists will not talk about tantric sex because tantric sex is a term coined by the "porn world. From the tantric way of living, the term tantra sex does not exist. In sex we talk about '11 minutes bonkie bonkie', which from a tantric perspective is very short. Tantric love making can last for hours and is lovingfull. Of course, tantrists can also get excited and enjoy a short intense love making session, yet there will be more feeling involved.
In the online tantric love making course, you find practical explanations including and an extensive playlist.
Background tantric living
Tantra is an over two thousand year old way of life from the East with origins in India. In Hinduism and Buddhism are referential writings and ideologies that deal with yoga, meditation and sexuality. Tantra is a word in Sanskrit that means something like weaving which refers to the energy exchange between the individual and the universe. In the Western world it is often thought to be purely about sex, but it is mainly about living in the present from your feelings.
In some cultures, sex is seen as something sinful and functional only for procreation. In the tantric way of life, tantric sex is sacred based on trust, surrender, equality and purposelessness. In the Maithuna, lovers let their sexual energy flow and mix it with cosmic consciousness. This makes tantra sex a spiritual experience with accompanying rituals.
Many women, thanks to tantric sex, have discovered their pleasure through equality with deep respect and understanding for each other. In the Western world, most couples are focused on orgasm and ejaculation. Foreplay is optional and for many men is separate from the 'sex' with the goal of reaching a climax, often as quickly as possible, a 'quickie'. Tantrists enjoy themselves throughout the love game, which is a long, passionate, orgasmic union.
The delay of the male orgasm is the great secret of tantric sex, where there is a difference between orgasm and ejaculation. Many men think of orgasm as the peak of sexual erection. By practicing discipline, breathing techniques and patience, a man can learn to delay ejaculation. As a result, he still experiences waves of orgasmic pleasure, which is what you learn in the online e-book Maithuna. Thus, it is possible for the love game to last longer, become more intense and intimate for him and her.
Everything is allowed, nothing is required
Tantric love making is enjoyment where everything is allowed, nothing is required. This allows you to explore boundaries of pleasure together.
Time for tantric love making
Tantric love making that takes time. An hour is a start and can grow to 8 hours and longer.
Tantric love making for everyone?
Everyone can make tantric love with and without partner. 
Within a relationship, Maithuna grows respect, intimacy and love.
As a woman (Shakti) you will feel more intense and as a man (Shiva) you will get more patience and energy.
Experimentation can be done alone and together.
You experience the exciting of Kundalini (sexual energy).
As a woman you learn to pulse, the pompoir technique and become one with your Yoni (vagina).
As a man you learn techniques to postpone an orgasm.
Combining your skills, it becomes intuitive to experience the climax of an ecstatic flow.
In the ecstatic flow your consciousness becomes greater than just yourself, you feel connected to something that is greater than yourself. It is a time when you are outside yourself. It helps to empty your head and make contact with your body. You feel one with your partner, the music, atmosphere, the universe… Your consciousness moves in a way that feels good and is good for you. A moment you experience with your partner or alone.
Tantric love making is different love making. The difference with animals is that humans have consciousness. Making love differently from love and consciousness. It is not that tantra rejects our "primal urges. With tantra you realize that there is more than desire and lust. Conscious love making gives your sex life a deeper dimension. After a while, the 'flat sex; will not be fulfilling anymore. Loving and conscious sex according to the tantric insights is an enrichment of your life.
Tantric love making is done together, it is a loving 'game'. The goal is not to cum, the goal is to enjoy each other's bodies together, the touch, the energy and enjoy lust and love. It is not a "workout. It's not about ejaculation and cumming as much as possible, it's not about performance. It's not about the 'doing', it's about the 'being'.
Scientifically you do sex alone and many people stay in their heads. Tantric sex you experience together it is a fusion of two energies and with the right partner also the souls. It's about the touch, the movements, the eye contact where the kundalini starts flowing through the bodies. It makes you more alive and energetic. Each experience is unique, it is different every time and the more you make tantric love together the more intense it becomes.
After years of "flat sex" with all kinds of toys, maybe even narcotics, you get to the point where you ask yourself, "Is this it now? 
The answer is: Tantric sex.
Maithuna and Erectile Dysfunction?
If your partner has no or insufficient erection, or even no Lingam (penis), it is possible to experience the Maithuna.
The energy circulation is started by the intention, asana's and pompoir technique, apart from penetration.
Does your partner have ADHD? In the book Martin explains how the 'hyper-energy' can flow for even more intensity.
Tantric love making is timeless.
If there is a lot of time then you can make wonderful trips.
Even the weekly '11 minutes' get more intense with the new skills.
Tantric love making around the world
You will find tantric love making people all over the planet:
Albania in the Durrës and Tirana regions
Argentina in the Buenos Aires, Córdoba, Rosario, La Plata, Mar del Plata, San Miguel de Tucumán, Salta, Santa Fe de la Vera Cruz, Vicente López and Corrientes regions
Austria (Österreich) in the Vienna (Wien), Graz, Linz, Salzburg, Innsbruck and Klagenfurt regions
Australia in the Sydney, Melbourne, Brisbane, Perth, Adelaide, Gold Coast-Tweed Heads, Canberra and Darwin regions
Bahrain in the Manama region
Belarus in the Minsk, Borisov and Soligorsk regions
Belgium (België) in the Brussels (Brussel), Antwerp (Antwerpen), Luik (Liège), Gent, Mechelen and Turnhout regions
Bolivia in the Santa Cruz De La Sierra, Cochabamba, La Paz, Sucre, Oruro, Tarija, Potosi, Sacaba and Montero regions
Bulgaria in the Sofia, Polvdiv and Varna regions
Bosnia and Herzegovina in the Sarajevo, Banja Luka, Tuzla and Zenica regions
Brazil (Brasil) in the São Paulo, Rio de Janeiro, Brasília, Forteleza, Belo Horizonte, Manaus, Curitiba, Recife, Goiânia, Porto Alegre, Guarulhos, Belém, Campinas and Maceió regions
Cambodia in the Phno Penh, Takeo and Kampong Saom regions
Canada in the Toronto, Montreal, Calgary, Ottawa, Edmonton, Missisauga, Winniepeg, Vancouver, Brampton, Hamilton and Halifax regions
Chile (Chili) in the Santiago, Puente Alto, Viña del Mar, San Bernardo, Talca, Concepción, La Pintana, Puerto Montt and Iquique regions
China in the Shanghai, Beijing, Chongqing, Tianjin, Guangzhou, Shenzhen, Chengdu, Nanjing and Wuhan regions
Columbia in the Bogotá, Cali, Medellín, Barranquilla, Cartagena, Cúcuta, Bucaramanga, Pereira and Santa Marta regions
Croatia in the Zagreb, Split, Rijeka, Osijek and Zadar regions
Cuba in the Havana, Santiago de Cuba, Camagüey, Holguin and Santa Clara regions
Danmark in the Kopenhagen, Aarhus, Aalborg and Odense regions
Dominican Republic in the Santa Domingo, Santiago de los Caballeros and La Romana regions
Egypt in the Cairo, Alexandria, Giza, Port Said, Suez and Luxor regions
El Salvador in the San Salvador, Soyapango, Santa Ana, San Miguel, Meijicanos, Santa Tecla, Apopa and Delgado regions
Equador in the Guayaquil, Quito, Cuenca, Machala and Manta regions
Estonia in the Tallinn, Tartu and Narva regions
Finland in the Helsinki, Tampere, Turku, Oulu, Jyväskylä, Lahti, Pori Kuopio and Vaasa regions
France in the Paris, Lyon, Marseille, Toulouse, Lille, Bordeaux, Nice, Nantes, Strasbourg, Rennes, Grenoble, Rouen, Toulon, Montpellier, Douai-Lens, Avignon, Saint Etienne, Tours, Clermont-Ferrand, Nancy, Orléans, Caen, Angers, Metz, Dijon and Valenciennes regions
Georgia in the Tbilisi, Kutaisi, Batumi, Sukhumi, Zugdidi and Rustavi regions
Germany in the Berlin, Frankfurt am Main, Hamburg, Cologne (Köln), Stuttgart, Düsseldorf, Essen, Leipzig Bremen, Hanover (Hannover), Nuremberg (Nürnberg), Duisburg and Munich regions
Greece in the Athens, Thessaloniki, Patras, Larissa, Heraklion, Peristeri, Kallithea, Nikaia, Kalamaria and Volos regions
Hungary in the Budapest, Debrecen, Miskolc, Székesfehérvár, Gyõr, Pécs, Szeged, Nyiregyháza, Kecskemét and Szombathely regions
Honduras in the Tegucigalpa, San Pedro Sula, Choloma, La Ceiba, Ciudad Choluteca, Comayagua, La Lima, Danli and Tocoa regions
Hong Kong in the Kowloon, Tsuen Wan, Yuen Long Kau Hui and Tung Chung regions
Iceland in the Reykjavik, Kopavogur and Hafnarfjoerdur regions
India in the Mumbai, Delhi, Bangalore, Hyderabad, Ahmedabad, Cheunnai, Kolkata, Surat, Pune, Jaipur and Lucknow regions
Indonesia in the Jakarta, Surabaya, Medan, Bandung, Bekasi, Palembang, Tangerang, Makassar, South Tangerang, Semarang, Depok and Batam regions
Iran in the Tehran, Razavi Khorasan, Isfahan, Alborz, Fars, East Azerbaijan, Qom, Khuzestan and Kermanshah regions
Iraq in the Baghdad, Basra, Mosul, Erbil, Abu Ghraib and Kirkuk regions
Ireland in the Dublin, Belfast, Cork, Derry, Limerick, Galway, Craigavon, Waterford, Drogheda and Dundalk regions
Israel (Yzrael) in the Jerusalem, Tel Aviv, Haifa, Ashdod, Rishon LeZiyyon, Petah Tikva, Beersheba, Netanya, Holon, Bnei Barak, Rehovot and Bat Yam regions
Italy in the Rome, Milan (Milano), Naples (Napoli), Turin (Torino), Palermo, Genoa (Genova), Bologna, Verona and Venice regions
Jamaica in the Kingston, New Kingston, Spanish Town, Portmore and Montego Bay regions
Japan in the Tokyo, Yokohama, Osaka, Nagoya, Sapporo, Kobe, Fukuoka, Kyoto, Kawasaki and Saitana regions
Jordan in the Amman, Zarqa, Ibrid, Russeifa, Wadi Al Seer, Adjlun, Aqaba, Rukban and Madaba regions
Kosovo in the Pristina and Prizren regions
Kuwait in the Al Ahmadi and Hawalli regions
Latvia in the Riga and Daugavpils regions
Liechtenstein in the Schaan,Vaduz,Triesen, Balzers and Eschen regions
Luxembourg (Luxemburg) in the Luxembourg City, Esch-sur-Alzette, Differdange and Dudelange regions
Malasya in the Kuala Lumpur, Seberan Perai, Subung Jaya, George Town, Ipoh, Shah Alam, Petaling Jaya and Iskandar Puteri regions
Malta in the Qormi region
Mexico in the Mexico City, Ecatepec, Guadalajara, Puebla City, Ciudad Juárez, Tijuana, León, Monterrey, Zapopan, Nezahualcóyotl, Culiacán, Chihuahua City, Naucalpan and Merida regions
Republic of Moldova
Monaco
Montenegro in the region of Podgorica
Moroco (Maroc) in the Casablanca, Rabat, Fès, Salé, Agadir, Tangier, Meknes, Oujda, Al Hoceima, Kenitra and Tétouan regions
Netherlands in the Amsterdam, The Hague (Den Haag), Rotterdam, Utrecht, Breda, Eindhoven, Maastricht, Dordrecht, Leiden, Werkendam, Den Bosch, Groningen, Apeldoorn and Arnhem regions
New Zealand in the Auckland, Christchurch, Wellington, Tauranga, Lower Hutt and Dunedin regions
Nicaraqua in the Managua, León, Masaya, Matalgalpa and Chinandega regions
North-Macedonia in the Skopje, Bitola, Kumanovo, Prilep and Tetovo regions
Norway in the Oslo, Bergen, Trondheim, Stavanger, Drammen and Fredrikstad regions
Oman in the Muscat, Seeb, Salalah, Bawshar and Sohar regions
Pakistan in the Karachi, Lahore, Faisalabad, Rawalpindi, Gujranwala, Multan, Quetta and Islamabad regions
Panama in the Panamá, Colón, David, La Chorrera, Santiago and Penonomé regions
Paraguay in the Asunción, Ciudad del Este, San Lorenzo, Luque, Capiatá, Lambaré, Fernando de la Mora and Limpio regions
Peru in the Lima, Arequipa, Trujillo, Chiclayo, Piura, Huancayo, Cusco, Chimbote, Iquitos and Tacna regions
Philippines in the Quezon City, Manila, Caloocan, Davao City, Cebu, Zamboang City, Taguig, Pasig, Cagayan De Oro City and Paranaque regions
Poland (Polska) in the Warsaw, Lódz, Krakow, Wroclaw, Poznan, Gdansk, Szczecin, Bydgoszcz, Lublin, Katowice, Bialystok and Gdynia regions
Portugal in the Lisbon (Lisboa), Porto, Vila Nova de Gaia, Amadora, Braga, Coimbra, Funchal, Almada, Setúbal, Agualva-Cacém, Barreiro and Aveiro regions
Romania in the Bucharest, Cluj-Napoca and Craiova regions
Russia in the Moscow, Saint Petersburg, Novosibirisk, Yekateringburg, Kazan, Nizhny Novogrod, Samara Omsk and Rostov-on-Don regions
Saudi Arabia in the Riyadh, Jeddah, Mecca, Medina, Sultanah, Dammam, Ta'if, Tabuk, Al Kharj, Buraydah, Khamis Mushait, Al Hufuf, Al Mubarraz, Hafar Al Batin, Ha'il, Najran, Al Jubayl, Abha, Yanbu and Khobar regions
Serbia in the Belgrade, Novi Sad, Kragujevac and Kraljevo regions
Signapore in the Singapore and Woodlands regions
South Korea in the Seoul (Seoel), Busan, Incheon, Daegu, Daejeon, Gwangju, Suwon, Goyang-si, Seongnam-si, Jeonju and Ulsan regions
Spain (Españia) in the Madrid, Barcelona, Bilbao, Valencia, Sevilla, Zaragoza, Málaga, Murcia and Alicante regions
Slovenia in the Ljubljana and Maribor regions
Slovakia in the Bratislava and Martin regions
South Africa in the Cape Town, Durban, Johannesburg, Soweto, Pretoria, Port Elizabeth, Pietermaritzburg, Benoni and Bloemfontein regions
Surinam (Suriname) the Parimaribo, Lelydorp, Brokopond and Nieuw Nickerie regions
Sweden (Sverige) in the Stockholm, Gothenburg, Malmö and Uppsala regions
Taiwan in the Taipei, Kaohsiung, Taichung, Tainan, Banqiao, Hsinchu, Keelung and Nantou regions
Tajikistan in the Dushanbe, Khujand, Kulob and Bokhtar regions
Thailand in the Bangkok, Krung Thep, Nouthaburi, Chiang Mai, Pak Kret and Hat Yai regions
Turkey in the Istanbul, Ankara, Izmir, Bursa, Adana, Gazianlep, Konya, Mersin and Samsun regions
Ukrain in the Kyiv, Kharkiv, Odesa, Dnipro, Donetsk, Zaporizhia, Lviv, Kryvyi Rih, Mykolaiv, Mariupol, Luhansk, Sevastopol and Poltavo regions
United Arab Emirates in the Abu Dhabi, Dubai, Sharjah, Al Ain, Ajman ande Ras Al Khaimah regions
United Kingdom (UK) in the London, Manchester, Birmingham, Glasgow, Sheffield and Glastonburry regions
United States of America (USA) in the New York, Los Angeles, Chicago, Houston, Phoenix, Philadelphia, San Antonio, San Diego, San Jose, Austin, Jacksonville, San Francisco, Columbus, Fort Worth, Indianapolis, Charlotte, Seattle, Denver, Washington D.C., Kansas City, Pasadena, Boston, El Paso, Detroit, Nashville, Memphis, Portland, Oklahoma City, Las Vegas, Louisville, Baltimore, Milwaukee, Albuquerque, Tucson, Fresno, Sacramento, Kansas City, San Diego, Atlanta, Long Beach, Miami, New Orleans, Oakland, Michigan, Orlando, Reno, Richmond, Salt Lake City, Charleston, Berkeley and West Palm Beach regions
Venezuela in the Caracas, Marcaibo, Valencia, Barquisimeto, Maracay, Ciudad Guayana and Petare regions
Vietnam in the Ho Chi Minh City, Hanoi, Da Nang, Haiphong and Biên Hòa regions
Qatar in the Doha and Al Rayyan regions
Isn't your country or region on the list? Be the first Maithuna adaptor in your region and learn tantric love making.
THE JOY OF TANTRIC LOVE MAKING
The tantric sex teaches us to focus on our body through listening, concentration and deep breathing and has the goal of improving the perception of self and the complicity and intimacy with their partner. We met Maria Claudia Biscione, psychologist, psychotherapist and sexologist at the Israelite Hospital in Rome, often a guest at the Zouzettes , Roman women's appointments in which we mainly talk about eroticism, to find out more.
Is Tantra just a set of techniques?
The term Tantra indicates a controversial set of spiritual teachings and traditions that originated in Indian religious cultures with variations and branches widespread in many areas of the Far East. It is in fact a true doctrine that has as its objective the knowledge and maturation of oneself in which sexuality is the means to unite completely with body and spirit to the other. The sexual practices envisaged are actually only part of the tantric doctrine which combines body and mind, joy and spirituality, concentration and meditation exercises and practices for the purification of the body and energy channels.
Does it include positions such as kamasutra?
Tantric sex teaches focus on the body understood as listening, attention, is based on the principles of naturalness and slowness in order to improve self-perception and complicity and intimacy in the couple. This happens by teaching us to listen to the signals that our body sends us, both alone and with the partner, helping to control breathing which must be diaphragmatic, therefore softer and more relaxed, to better oxygenate the body. Moreover, especially in the couple, synchronizing the breathing will be fundamental, because according to the tantric philosophy in this way energy is circulated. Another very important key becomes the use of the voice, able to unlock the chest and pelvis and free the mind. In the end,comes the movement that allows you to open the blocks and stimulates you to move rhythmically with your partner in search of harmony.
Does it have any links to yoga?
There is a close link with yoga even if Tantra can be placed in a separate category. Three adjectives to define traditional sex and three to define Tantric sex. Haste, "genital-centric", superficial. Complex, deep, attentive.
Can only one of the two partners be tantric?
Obviously yes, and this can greatly help the partner who is not to be guided, to rely on and let himself go to discover new sensations and better self-awareness.
Is tantric sex usually nature or does it also include external aids such as sex toys?
Usually it is nature because it is based on the principle that within us we already have all the necessary "tools" to explore, browse, transgress, and expand the baggage of sexual knowledge. Total harmony between body and mind is an inexhaustible source of eroticism. This obviously does not mean that sex toys are banned, but simply that they can be an additional, but not essential, game.
Does Tantra Help Couples Have Longer Relationships?
Help couples get to know each other without secrets, improving spontaneity and giving each other without reservations, pretenses, taboos or censorship. In fact, it helps to exploit sexual arousal in a conscious way to increase vital energy and dominate emotions as well as to find perfect harmony with the partner. The result is an extraordinary improvement in intimacy and complicity, fundamental ingredients to ensure a longer duration of a relationship.
Does Tantra Help Couples Have Longer Relationships?
Help couples get to know each other without secrets, improving spontaneity and giving each other without reservations, pretenses, taboos or censorship. In fact, it helps to exploit sexual arousal in a conscious way to increase vital energy and dominate emotions as well as to find perfect harmony with the partner. The result is an extraordinary improvement in intimacy and complicity, fundamental ingredients to ensure a longer duration of a relationship.